[ad_1]

Dorothea Bernique isn't concerned about finding more women in the Charleston region who want to launch or grow their own businesses.
In its about first year of operation, the new U.S. Small Business Administration-affiliated Women's Business Center that her nonprofit, Increasing H.O.P.E., launched, has quickly generated an almost overwhelming amount of interest.
"We're very, very excited about that," Bernique said at the official May 16 ribbon cutting for the I-HOPE Women's Business Center in the recently opened Opportunity Center in North Charleston.
The I-HOPE center, which offers free services like one-on-one coaching, training events and help acquiring capital, particularly for women, minority and veteran entrepreneurs, is the third SBA-affiliated Women's Business Center in the state and the first in the Lowcountry.
CommunityWorks, a nonprofit in Greenville, and Benedict College in Columbia host the other two. 
Last January, Increasing H.O.P.E. was announced as one of the organizations that would launch 20 new women's business centers in the U.S. — the largest single expansion in the program's 30-year history.
The I-HOPE center started working with clients not long after that, and, in its first year, helped more than 220 entrepreneurs and aspiring business owners. More recently, it moved into its long-term home at 8570 Rivers Avenue.
The Opportunity Center, which had its own ribbon cutting earlier this spring, houses offices for four local organizations. Along with being under one roof, the groups share common goals of providing resources to support underserved entrepreneurs in the community and build generational wealth.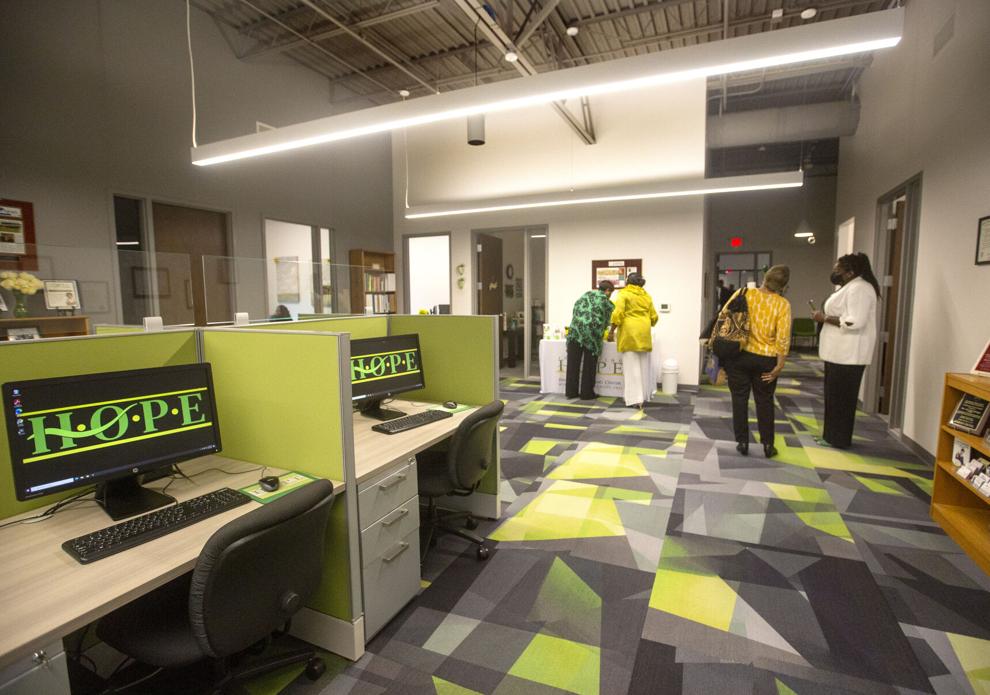 A $2.7 million federal grant bolstered the creation of the Opportunity Center which was developed in a former furniture warehouse.
Increasing H.O.P.E. is one of the organizations housed there, along with the S.C. Association for Community Economic Development, or SCACED, the Center for Heirs' Property Preservation and Homes of Hope Inc.
Bernie Mazyck, CEO of SCACED, was a participant in a panel discussion Tuesday, held before the I-HOPE's center's ribbon cutting. Representatives of other affiliated organizations, SBA officials, Bernique and a few local small business owners also served as panelists in a discussion on the issues facing women-owned small businesses today.
They talked about challenges like acquiring capital, a roadblock that one of the entrepreneurs, the founder of a local trucking and logistics company, said she wasn't able to overcome until she connected with the women's business center.
Panelists came back to the idea of working across organizations and leaning on existing networks to reach and help more people — guiding ideas behind the Opportunity Center itself and the SBA women's business centers across the U.S.
"Collaboration is key," Bernique said.
SBA officials talked about pivoting away from the period of the pandemic when the agency was mainly discussed in the context of COVID-related aid programs.
Allen Thomas, regional administrator for the SBA, said this time is a significant period of growth for women-owned businesses.
"This will be the decade, when we look back, of women entrepreneurs," he said.
For I-HOPE program director Kedyky Sherrill, the center is all about removing barriers for Lowcountry entrepreneurs.
"So many people are gifted and talented, but they face barriers. Women face barriers," Sherrill said. "I feel like this was a chance to help people do what they're good at."
The center has a goal of serving 400 customers during this second year, Sherrill said at the ribbon cutting. Those clients can be the owners of established businesses seeking guidance, people running start-ups or those who they describe as "dreamers," or people trying to turn their idea into a real business.
I-HOPE will be particularly focused on businesses in the childcare, real estate, food service, transportation and logistics sectors, based on demand observed from clients and current economic trends.


[ad_2]

Source link