RRR release highlights: SS Rajamouli's film stars Jr NTR, Ram Charan in the lead with Alia Bhatt and Ajay Devgn in special roles. Check out all the conversation about the film from its release day.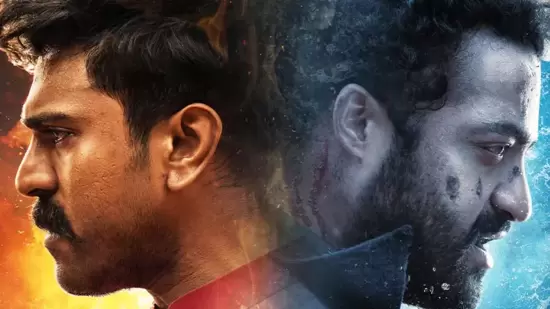 Updated on Mar 25, 2022 07:51 PM IST
SS Rajamouli's follow-up to his Baahubali duology, RRR released on Friday. The film stars Jr NTR, Ram Charan, Alia Bhatt and Ajay Devgn. RRR is a fictional story inspired by Telugu freedom fighters Alluri Sitarama Raju and Komaram Bheem. The film has explored a blind spot in history for a cinematic spectacle, as there seem to be no records about what happened in the lives of these freedom fighters when they were away from their homes.
Read review here and catch all highlights from the release day here:
Follow all the updates here:
Mar 25, 2022 06:10 PM IST

RRR's Hindi version records second best opening post-pandemic

According to a a report in BoxOfficeIndia.com, "RRR's Hindi version has taken a good start overall with the collections being very good at places. The opening of the film is the second best post the pandemic after Sooryavanshi beating the likes of Bachchhan Paandey and 83."

Mar 25, 2022 05:17 PM IST

Chiranjeevi praises RRR, calls it masterpiece

Veteran actor Chiranjeevi took to social media to shower praise upon SS Rajamouli's RRR, calling it 'the master storyteller's masterpiece'.

Mar 25, 2022 04:31 PM IST

Larger-than-life characters, high-octane action sequences, gravity defying shots that give you an adrenaline rush, world class VFX and sets mounted on a huge canvas–SS Rajamouli once again serves you the perfect visual spectacle with RRR. Read full review here.

Mar 25, 2022 04:21 PM IST

JR NTR thanks fans for 'unwavering love'

The film's star Jr NTR thanks fans for their 'unwavering love' in a social media post. "Your love, admiration and support is what keeps me going," he tweets.

Mar 25, 2022 03:20 PM IST

Angry fans vandalise theatre

A video by Quint shows fans causing chaos at a theatre when a show was interrupted due to technical difficulties.

Mar 25, 2022 02:59 PM IST

Fans dress up as Ram Charan's character in RRR

A video shows fans dressed up as freedom fighter Alluri Seetharama Raju, as portrayed by Ram Charan in RRR. As the film released in theatres, fans dressed up as Ram Charan's onscreen character and took to the streets for a ride around the city.

Mar 25, 2022 02:23 PM IST

Boxer shares video of Ram Charan

"#RRR Movie have small segment of boxing & my Brother @AlwaysRamCharan have trained really hard with me even for that small segment.he has put his sweat and soul and given power pack performance," wrote boxer Neeraj Goyat.

Mar 25, 2022 02:02 PM IST

RRR fans dance inside theatres

Fans of the movie were spotted dancing, screaming, whistling inside the hall.

Mar 25, 2022 01:41 PM IST

Full report on US premieres

Raftar Creations, which has distributed RRR in overseas market, has claimed the film has collected $3 million from its premiere shows. Read full report here.

Mar 25, 2022 01:27 PM IST

Alia's behind-the-scenes video

Behind-the-scenes video shows Alia on the sets of RRR.

Mar 25, 2022 12:25 PM IST

Alia rakes in praise as Sita

"Alia Bhatt as Sita was excellent. Loved her performance in emotional scenes," wrote a fan on Twitter.

Mar 25, 2022 12:02 PM IST

Monika Rawal tweets about RRR

HT reviewer Monika Rawal tweeted, "Now watching #RRRMovie and #NachoNacho has totally won over me over. It's SO, SO good and grand. Literally makes you dance sitting on your seats. #RamCharan and #JuniorNTR have such spectacular entry sequences. Absolutely loving their camaraderie. @RRRMovie #RRR."

Mar 25, 2022 11:26 AM IST

"Best wishes to @ssrajamouli sir, @tarak9999 sir @AlwaysRamCharan sir and the entire #RRR team for a humongous success. The entire team's hard work will be celebrated throughout the world. Can't wait to witness the magic on screen #RRRMovie," wrote Sivakarthikeyan in a tweet.

Mar 25, 2022 11:13 AM IST

RRR is a 'masala entertainer'

Film critic Haricharan Pudipeddi writes in a tweet, "Rajamouli delivers what he promised. Unadulterated masala cinema with the right dose of emotions thrown in to work effectively on the big screen. Predictable plot but the way SSR mounts it on a large canvas is nothing short of an experience you can forget for a long time."

Mar 25, 2022 10:49 AM IST

RRR is an 'emotional roller coaster'

Film reporter Rajasekar has tweeted, "#RRRMovie #RRR – Mind-blowing first half ends with one of the best interval blocks ever featuring the pouncing tigers @tarak9999 & @AlwaysRamCharan. @ssrajamouli has delivered an emotional roller coaster with jaw dropping action sequences. Truly world class action choreography."

Mar 25, 2022 10:38 AM IST

Barbed wires come up in theatres

Ahead of the release of Ram and Jr NTR's RRR, a movie theatre in Andra Pradesh had put up barbed wires in front of the screen to prevent moviegoers from coming near it. Read full story here.

Mar 25, 2022 10:23 AM IST

Film collects $3 million from US premieres

RRR has reportedly already collected $3 million ( ₹22 crore) from their premieres in US.

Mar 25, 2022 10:13 AM IST

Alia Bhatt returns ahead of release

Actor Alia Bhatt returned to Mumbai with boyfriend Ranbir Kapoor on Thursday evening. They were shooting for Brahmastra in Varanasi.

Mar 25, 2022 09:59 AM IST

Tovino Thomas sends wishes

Actor Tovino Thomas took to Twitter to share his good wishes for RRR. "The much awaited ROAR is here. Super sure it's going to be nothing short of an EPIC! My heartfelt wishes to @ssrajamouli Sir , brothers @tarak9999 & @AlwaysRamCharan #riyashibu #HRpictures," he wrote.

Mar 25, 2022 09:39 AM IST

Jr NTR's family spotted at screening

Jr NTR's wife Lakshmi Pranathi and their kids joined the actor for the film's screening in Hyderabad.

Mar 25, 2022 09:25 AM IST

'Doesn't recreate magic of Baahubali'

Film critics Suchin Mehrotra shared his views on RRR on Twitter.

Mar 25, 2022 09:19 AM IST

A few reports suggest that tickets for the film are selling at a rate as high as ₹2100 in Delhi. The film's massive budget could be to blame.

Mar 25, 2022 09:08 AM IST

Taran Adarsh calls it terrific

Film trade analyst Taran Adarsh has shared his review of the film on Twitter. He has called it 'terrific'.
Jr NTR, KGF director Prashanth Neel celebrate their wedding anniversaries
Actor Jt NTR shared a picture with his wife, filmmaker Prashanth Neel and his wife on Instagram. He also informed his fans that the two couples are celebrating their wedding anniversaries together.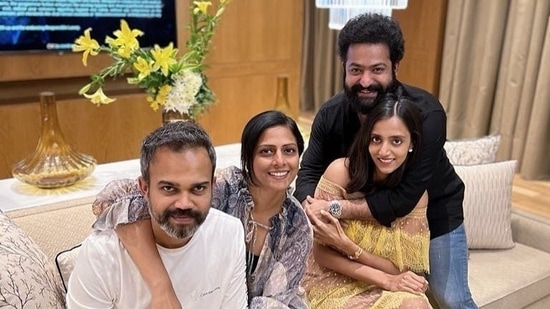 Published on May 06, 2022 01:16 PM IST
Ram Charan fans crowd airport, climb hotel walls to see actor in Vizag. Watch
Ram Charan was received by a sea of fans as the actor arrived in Vishakhapatnam to shoot his next film recently. Later, fans even scaled the walls of the hotel where he stayed to get a glimpse of him.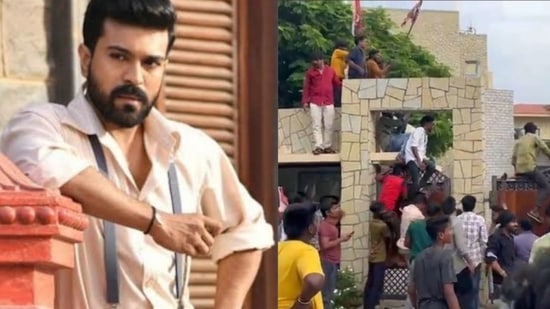 Published on May 04, 2022 07:48 PM IST