[ad_1]

Issues persist, pushing up prices of goods, delaying deliveries to customers, and ultimately putting the economic recovery at risk, survey reveals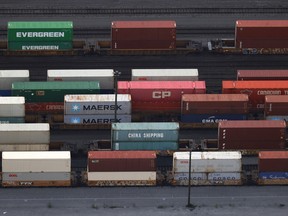 Article content
Good morning!
Article content
Supply chain issues continue to hammer manufacturers in Canada, pushing up prices of goods, delaying deliveries to customers, and ultimately putting the economic recovery at risk, according to new research released this morning.
In a survey conducted by Canadian Manufacturers & Exporters (CME), 90 per cent of manufacturing firms say they are currently experiencing supply chain problems, which in turn are dampening production and resulting in lost sales.
High transportation costs, an inability to get key materials from foreign suppliers and worker shortages are the main drivers of
the squeeze, manufacturers say.
What's worse, many believe relief is a long way off. Almost half of those surveyed say they don't expect problems to be resolved until 2023; another 18 per cent say they see issues persisting into 2024 — or later.
That will have implications for the economy, CME says.
"Demand for manufactured goods is strong but we are increasingly unable to keep up let alone take advantage of this boom. Labour shortages, supply chain challenges and higher input costs are big problems. If we don't address these, Canada's economy will suffer," Dennis Darby, chief executive of CME, said in an email.
Darby said manufacturers have been hit hard, first by the pandemic, and then by an ever-growing cascade of problems, including the Omicron wave of COVID-19, catastrophic floods in B.C., cross-border vaccine mandates in the trucking industry and subsequent border blockades.
Article content
In fact, since the pandemic began, businesses estimate supply chain issues have led to $10.5 billion in lost sales and almost $1 billion in added costs.
And costs continue to mount. Escalating shipping prices are a big problem for manufacturers, especially when transporting by sea. Eight out of ten firms say delays and higher costs from shipping via boat are major or severe. Transport through the trucking industry doesn't fare much better. Fifty-five per cent call high costs and delays via trucks major or severe.
In addition, many fear cross-border vaccine mandates imposed on truck drivers, the subject of protests across the country in January, will only exacerbate their troubles. Almost 60 per cent of firms believe the mandates will boost their shipping costs by more than 10 per cent. Manufacturers expect more delivery delays as a result, too, with some 12 per cent believing delays could take a month or more.
Vaccine mandates aside, to cope with supply chain blockages and rising costs, eight out of ten manufacturing firms say they've resorted to price hikes for customers or have been forced to delay customer orders.
Those delays are starting to show up in Canada's export data. Canadian exports fell sharply in January, Statistics Canada data showed yesterday, as supply chain problems ripple through trade.
Manufacturers of auto vehicles and parts were especially hard hit, and exports in that sector were down 9.6 per cent.
Article content
"Supply chain issues continued to affect the Canadian auto industry in January, forcing most auto manufacturers to reduce production," the statistics agency said in its report.
There are possible solutions to the supply chain issues plaguing manufacturing firms. Of those surveyed by CME, 48 per cent suggest the government increase temporary foreign workers and immigrants to address labour shortages. Another 41 per cent want the government to invest more money in domestic manufacturing. Firms also say infrastructure improvements in roads, airports, ports and railways could make a difference.
"Bottom line, there are many things Canada must do to tackle the supply chain problem. But it all starts with a firm commitment from government to work with industry to resolve these challenges," Darby said.
_____________________________________________________________
Was this newsletter forwarded to you? Sign up here to get it delivered to your inbox.
_____________________________________________________________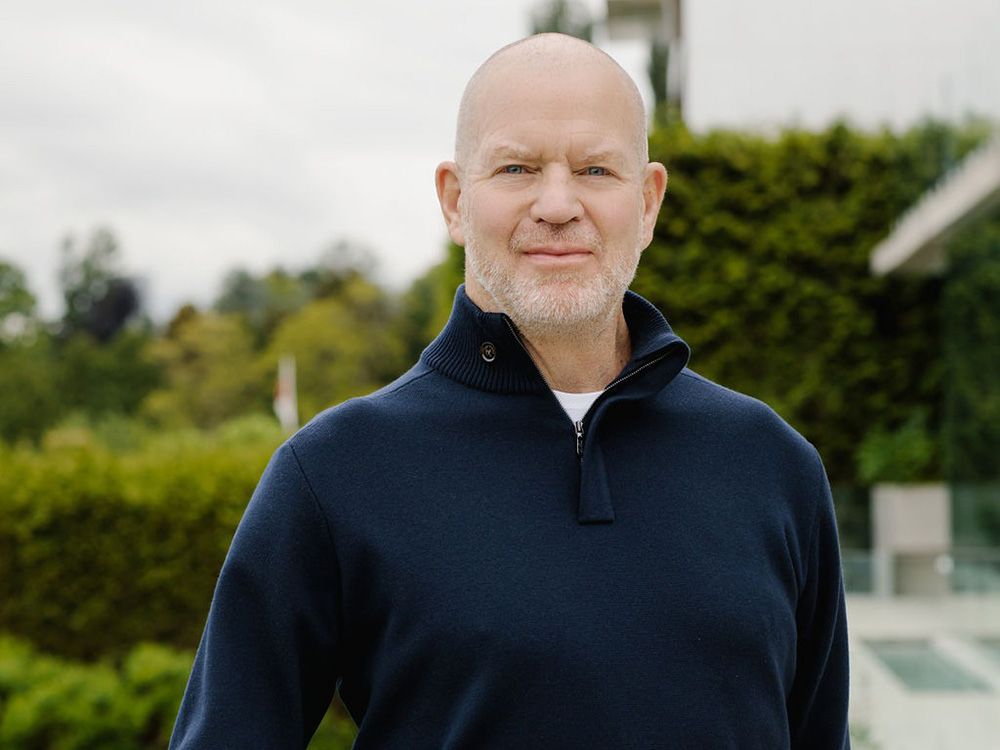 CHIP'S CHALLENGE Chip Wilson, the Canadian billionaire best known for being the founder of Lululemon Athletica Inc., is suffering from a rare form of muscular dystrophy he was diagnosed with at age 32, and had never spoken of publicly until Monday. Wilson says it's rapidly progressed from being a condition he has tried to ignore to one that seems determined to put him in a wheelchair. But he's not going down with out a fight. In an interview with the FP's Joe O'Connor, Wilson reveals he is committing $100 million to fund a new venture, Solve FSHD, with the goal of finding a cure within five years. Photo courtesy Lululemon
Article content
___________________________________________________
Prime Minister Justin Trudeau and German Chancellor Olaf Scholz meet in Berlin, Germany
National Defence Minister Anita Anand, UN Secretary-General Jens Stoltenberg and world military leaders take part in the 90th Ottawa Conference
Canadian Club talk with Minister of Environment Steven Guilbeault
Marie-Claude Bibeau, minister of agriculture and agri-food, will virtually join processors of supply-managed commodities to announce investments that will support the continued competitiveness and resilience of the sector
Leah Taylor Roy, member of Parliament for Aurora-Oak Ridges-Richmond Hill, on behalf of Natural Resources Minister Jonathan Wilkinson, will make a virtual announcement in Aurora, Ontario, to support electric vehicle charging infrastructure
Randy Boissonnault, minister of tourism and associate minister of finance, will announce federal support for the Indigenous tourism sector in Alberta
Kelvin Tran, chief financial officer of TD Bank Group, and Laura Dottori-Attanasio, CIBC's senior executive vice-president and group head of personal and business banking, are among presenters at the RBC 2022 Global Financial Institutions Conference
Jose Cil, CEO of Restaurant Brands International, and David Shear, president international, will participate in a fireside chat at the UBS Global Consumer and Retail Conference
Lightspeed takes part in the KeyBanc Capital Markets Emerging Technology Summit in Montreal
Today's data: U.S. job openings and labour turnover survey
Earnings: Transat AT Inc., Peyto Exploration & Development Corp., Linamar Corp.
Article content
___________________________________________________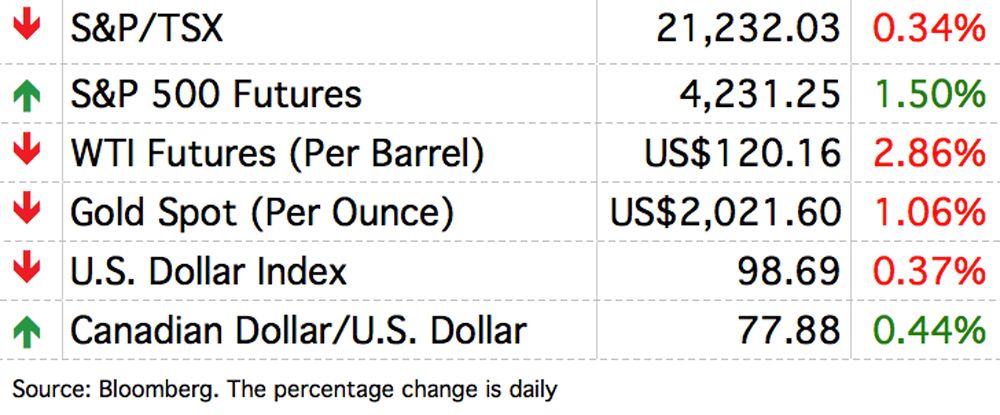 _______________________________________________________

___________________________________________________
International Trade Minister Mary Ng is headed to India this week, where she will meet with Piyush Goyal, minister of commerce and industry, and attend a ministerial conference to discuss trade and investment, reports the FP's Bianca Bharti.
The trip will mark the first high-level visit to the country following Prime Minister Justin Trudeau's visit in 2008, which generated negative headlines back home.
A trade agreement with India would be a win for Canada. The country is gaining economic influence and its population is set to grow past China's within the next 10 years. India is Canada's 11th-biggest export market and 12th-largest trading partner, but there is a $16-million trade deficit between the two countries.
Article content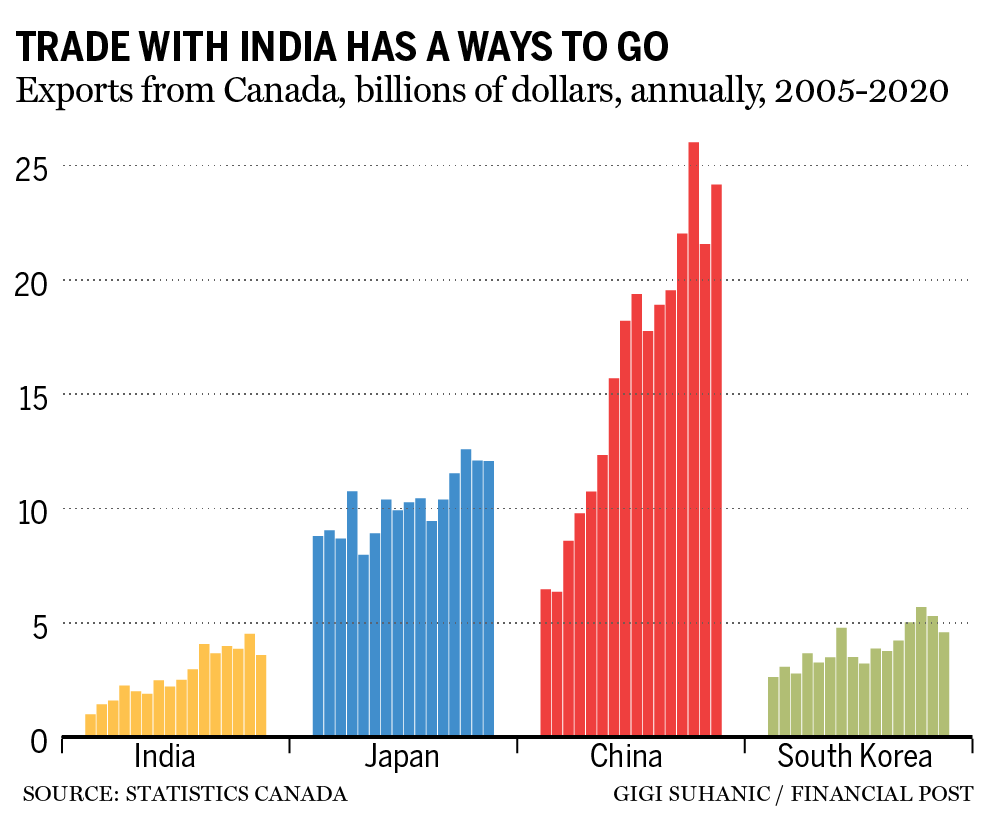 ____________________________________________________
For as long as most of us have been using computers, Microsoft Office has been one of the leading platforms for content production. Today, Microsoft Office has stood the test of time, continuing to be one of the most advanced and versatile suites of its kind on the market. Our content partner StackCommerce is offering, for a limited time, The Premium Microsoft Office Training Bundle + Lifetime License for MS Office Home & Business for Mac 2021 on sale for just $101.99. This bundle will give you access to Microsoft's iconic programs for the rest of your life and the tools to use them powerfully with 6 courses and 28 hours of content on Excel, Word, PowerPoint, Outlook, Teams and OneNote.
____________________________________________________
Today's Posthaste was written by Victoria Wells (@vwells80), with additional reporting from The Canadian Press, Thomson Reuters and Bloomberg.
Have a story idea, pitch, embargoed report, or a suggestion for this newsletter? Email us at [email protected], or hit reply to send us a note.
Listen to Down to Business for in-depth discussions and insights into the latest in Canadian business, available wherever you get your podcasts. Check out the latest episode below:


[ad_2]

Source link