[ad_1]

Why is it important to get a business education? That's an easy question for the new dean of the George Mason University School of Business.
Everything is business in some way, Ajay Vinzé said in a recent interview.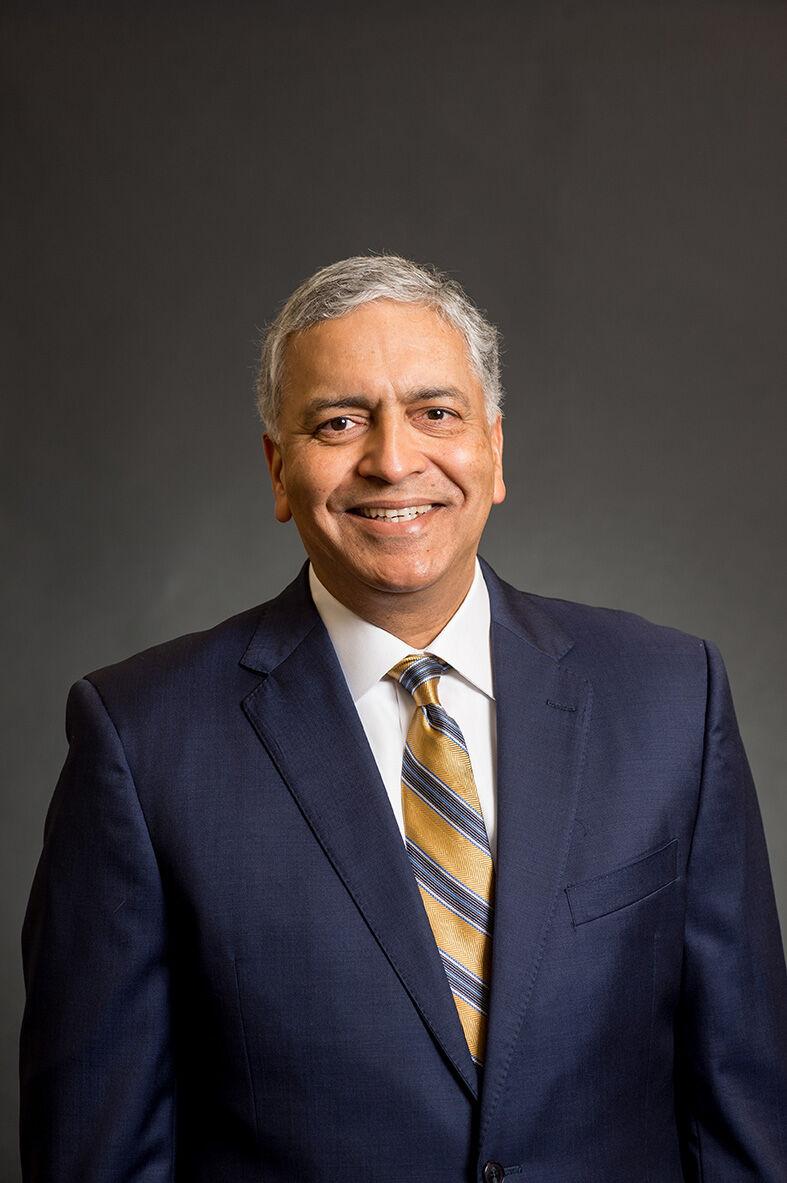 Take a farmer. You can tell him he's a businessman, but he might say, "No. I'm a farmer." Then you might go back and forth with him.
"But you employ people, right?" you might say. "And market products?"
"Well, yes," he might answer.
"See," you'd say, "You're a businessman. You're just in agriculture." 
Likewise, a reporter could be thought of as a businessman, just one in journalism. The notion is central to who we are in this country, Vinzé said, and to how our economy runs.
The 62-year-old, a former professor and dean of the University of Missouri's Trulaske College of Business, began his role at George Mason on July 1. He said recently that he had a sketch in his mind of what the university would be like and that he's been working over the past few weeks to color in the details. He also comes to the region with a list of priorities and an eye toward maintaining a good partnership with the Northern Virginia Chamber of Commerce.
Vinzé succeeds Maury Peiperl, who became dean of the school of more than 4,500 undergraduates and nearly 700 graduate students in 2017. Peiperl returns to the business school as a professor and will also serve as a fellow in the provost's office.
Vinzé has been having one-on-one conversations with faculty, staff, students and alumni to get a sense of them and how they contribute to the school. He hopes to have spoken to all of the faculty and staff by the end of this month. The idea is for him to share his vision and learn what George Mason's aspirations are.
"It's been wonderfully instructive," he said.
Vinzé said he also wants to make sure the right people are in the right jobs. 
"There's just a wealth of talent."
As dean in Missouri, he helped raise more than $30 million in philanthropic funding for the Trulaske College of Business, which has more than 4,200 undergraduates and 379 graduate students, according to George Mason's announcement of his arrival. Under Vinzé's leadership, the college also entered the eLearning space, offered micro credentials and certificates, and increased student experiential learning opportunities.
For his work at George Mason, he has identified five strategic priorities. The first is student learning and career readiness, and the second is impactful scholarship and research. Vinzé said the business school absolutely has to excel at these pursuits. They can help to distinguish the institution in the region, as well as nationally and internationally.
The third priority is modular education, with an eye toward lifetime learning. Students should increasingly be able to consume education in bite-sized chunks that add up to a great degree, Vinzé said, noting that COVID-19 and other factors have caused educators to rethink how education is delivered.
His fourth priority is finding innovative ways to interact with the business community. Both the school and companies need to work on the pipeline of talent, he said, and George Mason can be a national leader in experiential learning. 
The fifth priority is being very intentional about ensuring that the culture of the school is diverse, equitable and inclusive.
Before his work in Missouri, Vinzé spent 18 years at Arizona State University, where he served in several capacities, including as associate dean for international programs, associate vice provost for graduate education, director of the Executive MBA and Management Information Doctoral programs, and founding director of the Technology Research Center. He also was a professor at the university's W.P. Carey School of Business.
In 2016, based on a model he developed, MasterCard Foundation awarded Arizona State a $21.9 million, six-year interdisciplinary grant focused on promoting tertiary education in sub-Saharan Africa. 
Vinzé obtained his doctoral degree from the University of Arizona after receiving a master's from the University of Connecticut and a bachelor's from the University of Delhi. Before coming to Arizona State, he was an assistant and associate professor at the Mays Business School at Texas A&M University.
His research is recognized for technology innovation and organizational relevance, George Mason's announcement said, including data analytics, emergency preparedness and response, disruptive innovation and collaborative computing. The research typically incorporates collaboration with public- and private-sector organizations.
Vinzé said he is privileged to have lived and worked in, or at least visited, more than 70 countries. He's originally from India and grew up in the Philippines.
"Globalization is a big part of who I am," he said.
[ad_2]

Source link