[ad_1]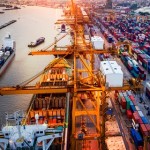 The Resilient Supply Chain Initiative (RSCI), was launched in September 2021 by India, Japan and Australia in response to growing alarm about the overdependence on China in global supply chains. This has led policy makers and the business sector to focus on India as an alternative channel for goods to keep the world's economy running. But making this a reality will require major effort. 
The interest is understandable. RSCI was created to meet a goal set by the Quadrilateral Security Dialogue to improve the security of global supply chains in light of worrisome developments – including the U.S.-China trade confrontation, the economic disruptions caused by COVID-19, and geopolitical competition among the great and regional powers in the Indo-Pacific region. For many economic sectors, India seems a logical place to look for an alternative supply chain. It is the world's largest provider of software outsourcing and solutions by total production value. Its pharmaceutical sector is the third-largest in the world. It ranks first in production of generic medicines and vaccines, second in telecommunications and the smartphone market, fourth in automotive and auto components, and sixth in chemicals.
But significant challenges stand in the way. For one, supply chains in India currently rely unduly on other countries, including China. India also suffers from economic and political risks, as well as hidden costs. These issues could be resolved by establishing better designed and well-planned industrial clusters and supply chain models. Central-planned Coastal Economic Zones (CEZs) under the SagarMala Project launched by PM Modi's government, if executed well, could boost confidence among international investors. And RSCI could provide good opportunities for India to collaborate with countries such as Japan and Taiwan in building robust supply chains. With their know-how and experience, India would gain in supply chain competition with other Indo-Pacific countries.
Supply chain risks and vulnerabilities
India's automobile and component industry illustrates the promises and the challenge. It  is vibrant and growing. Japanese and Korean firms are among its largest investors, while production of electronic vehicles also attract investments, including from Tesla and indigenous firms like Mahindra. But instead of earlier stages of production, India mostly serves the terminal market, where finished goods are assembled and traded. Whether India can be a regional manufacturing hub for automobile and auto parts remains to be seen. Similarly, although India's pharmacy sector is the third largest in the world, about 70% of its active pharmaceutical ingredients – including 90% for antibiotics – have to be imported from China.
Foreign direct investment (FDI) is similarly lopsided. According to the latest statistics in 2020, the top-ranking Indian sectors receiving FDI are the services industry; IT device manufacturing; telecommunications; trading; construction and real estate; automobile industries; chemicals; pharmaceuticals; tourism; and electricity and power. In the manufacturing sector, FDI in computer hardware/software and telecommunications have seen rapid growth, but other industries like metal processing, food processing, machinery and textile and clothing, have not. 
Indian supply chains also face risks related to changing economic conditions, natural disasters, energy supply disruptions and political disruption. Floods during the monsoon season usually delay delivery of goods and highway travel. In early 2021, riots in the Karnataka factory of Wistron India – the Taiwanese assembler for iPhones – over delayed and incorrect payment of workers' salaries, reflect risks arising from corporate mismanagement and the lack of human-resources and legal knowledge. The coal-shortage crisis in October, along with the poorly constructed power grids in India, have cast a shadow of energy risk for supply chains in the burgeoning manufacturing sector.
India's supply chains also have hidden costs. According to the report by Arthur D. Little and Confederation of Indian Industry (CII) in 2020, India's supply chains suffer from huge indirect logistics costs related to transportation (40% of hidden costs), warehousing (26%), inventory (24%) and order processing/administration (10%). Lack of good-quality infrastructure and national- or regional-level truck fleets or services drive up hidden costs in transportation. Limited deployment of technologies for warehousing and management of inventory, and end-to-end transparency also increase hidden costs.

Addressing the issue through clusters
Government-planned industry and supply chain clusters would effectively address these risks. Experience shows that in the general and ICT manufacturing sectors of China and Taiwan, planned clustering of manufacturing bases – fostered by preferential tax and regulatory policies –  have helped generate competition, innovation, and increased international capital and technology transfers. The idea of creating special economic zones (SEZs) or larger port-centered coastal economic zones (CEZs) as part of the SagarMala Projects have met resistance, though. Critics such as Sanjeev Ahluwalia, a veteran researcher with years of multilateral and government experience from the Observer Research Foundation (ORF), argue that the CEZ effectively would require coastal states to give up land as "deemed foreign territory" under the jurisdiction of the Central Government of India.
Even Ahluwalia agrees, though, that SEZs are favorable (if not a favorite) of IT industries, which are now considered India's favored children, with comparative advantages, better opportunities due to the changing geopolitical environments, and positive regard from big firms such as Foxconn, Wistron, Dell, and Apple. After years of consideration, Foxconn left Maharashtra for Sri City, a business-integrated city with SEZs, to manufacture iPhones for Apple outside of China, becoming one of the most successful stories of offshore manufacturing outside of Shenzhen.
Policymakers must realize that investors respond to different kinds of incentives. India is competitive in manufacturing labor costs. Cash rewards for extra production through Production Linked Incentives (PLI) have led 16 ICT manufacturers in the iPhone supply chains to relocate to India. But many of the firms fear this four-year program might change or be phased out with a change of government. If India really wants to become a manufacturing hub as declared in concept of Atmanirbhar India (self-reliant India) – which is more aligned with global supply chains – incentive programs have to be improved with the long term sustainability in mind. 
The role of Japan and Taiwan to better incorporate India into the RSCI
Since its launch in April 2021, the Resilient Supply Chain Initiative (RSCI) has held two forums  to share and introduce policy ideas, and to identify strengths and areas where the three countries can collaborate. Both were hosted by Japan. The RSCI should plan to expand its scope, number of participants, and its functions as a platform.
Promoting industrial clustering and technology in supply chains while considering the domestic legal and political compliance of member countries (which can be especially a challenge for India) can be on the agenda of future RSCI interactions. India has set up an intergovernmental "Japan Plus" desk in the central ministry; but in the RSCI scheme, the three countries can explore additional experimental policies or pilot programs.
Members of RSCI also can discuss enhancing policy flexibility and trade facilitation in the context and framework of QUAD. US President Joe Biden pledged in his 100-Day supply-chain report to cut "red tape" by coordinating with Central American and Southeast Asian countries and providing technical assistance or funds for single windows to streamline the processing of trade-related filings. India faces similar issues. For instance, concern about delays led Tower Semiconductor, an IT firm of Israel, to write to PM Modi in September 2021 asking for his intervention to fast-track the administrative process. Meanwhile, in an apparent attempt to retain investment during COVID-19, countries like China and ASEAN countries allow processing trade and non-resident inventory in bonded areas or zones. India has not adopted any policy changes. 
To achieve these goals, RSCI should seek to link with and embed itself in the national development strategies of each member country, so that it can become a more effective tool for policy communication. It also should expand itself to be more of a policy coordination platform that can incorporate multiple ministries, bureaucrats of different departments, and experts from different but closely related fields in expanding its policy or issues knowledge base.
Finally, having played key roles in the relocation of smartphone and ICT components supply chain to India, the Taiwanese firms – along with its government, industries and experts – should not be left out of RSCI activities. The Global Cooperation and Training Framework (GCTF), created by the US, Japan and Taiwan, could be a model; it has served a multipurpose platform that has involved Indo-Pacific countries such as Australia and South Pacific island nations.
While there are risks and vulnerabilities in India's manufacturing sectors, logistics and transportation, it's clear that changes in geopolitics and geoeconomics are creating opportunities for it to reshape and improve its supply chains. Creative and astute policy incentives like PLI enabled the Modi government to make progress such as getting Apple's iPhone suppliers to India. But continued success will require long-term planning in industrial and FDI policies. New Delhi should use the QUAD framework and essential multilateral arrangements such as RSCI to be part of an international industrial transformation that is under way. Other key countries in the Indo-Pacific, such as Japan and Taiwan, can play essential roles in the process.
Roger Liu is Associate Professor, Social Sciences department, FLAME University.
This paper has been published by Gateway House, with the support of the United States Embassy, New Delhi. Read the full compendium 'India in the Indo-Pacific: Pursuing Prosperity and Security' here.
The views and opinions expressed in this paper are solely those of the authors. The views expressed in the paper do not necessarily reflect those of the United States Embassy, New Delhi.
For interview requests with the authors, or for permission to republish, please contact [email protected].
© Copyright 2022 Gateway House: Indian Council on Global Relations. All rights reserved. Any unauthorized copying or reproduction is strictly prohibited.
[ad_2]

Source link