[ad_1]

Passionate about rock climbing and mountain biking, Snowy Mountains resident Jacinta Timmins has spent a lot of time enjoying the outdoors. However, over the years, she found herself underwhelmed by the apparel offerings within this space.
"A lot of the mountain biking clothing brands that are in the market at the moment sort of birthed from another sport called motocross," she explained. "Then they moved into mountain biking because a lot of people who like motocross also enjoy mountain biking.
"You can see these influences in their apparel. A lot of the female garments are very bright, in colours like pink, orange, yellow. And if anybody else out there is like me (which I'm sure there are) I found that incredibly offensive. I didn't want to wear that!"
She decided it was time for something else to enter this apparel space, providing clothes that are sustainable, minimal, and "something that people feel like they can use and wear with longevity."
Favouring support, comfort, and utility with the needs of Australia's estimated 300,000-strong mountain biking community in mind, apparel brand Norman Mountain Biking was launched earlier this year.
For Jacinta, who has a background in digital marketing, tech, and UX design, co-founding Norman with business partner Charlie Timmins came as a welcome pivot. It combined her love for the outdoors with her passion for environmental sustainability. It also allowed for utilising her problem-solving skills in designing web platforms towards apparel and fashion.
"Starting out, I had no idea about developing this physical product. It took me a really long time to ramp the brand up, I'd say two and a half years of research and development before I even had anything to put out into the market," she elaborated.
"Crafting the website, doing the photo shoots for marketing, leaning on my contacts, those were easy for me because that's been my world for 15 years. But learning how to design the product, source real sustainable fabrications… That was something else."
Developing a sustainable clothing brand
Locally designed and manufactured from ethically sourced fabrics, Norman holds sustainability at its core. An ongoing partnership with Snowy Mountains-based not-for-profit Keep It Cool supports community tree-planting initiatives and many of the garments are constructed from recycled fabrics supplied by Repreve.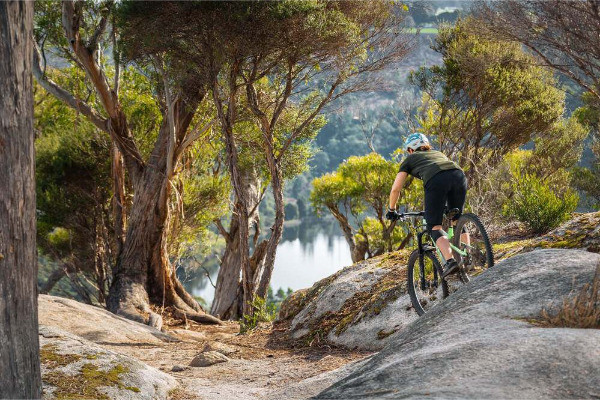 "We only started two months ago but the feedback has been amazing," Jacinta grinned. "Let me tell you, it can be very scary to receive feedback when you're just starting out. But it's something to take in your stride and accept as something to learn from."
Recalling a comment about the apparel's minimal aesthetic ("there were one or two comments about the garments looking plain") she added that a major lesson in her business journey has been taking note of genuine constructive criticism.
"There's feedback that you take with a grain of salt and then there's feedback you take on board. For us, it was about sizing and it's certainly something I feel passionate about. I would love to be able to take photos of various models of different sizes, shapes, and forms.
"So my approach was – let's get out into the market with a small line as soon as possible and just see how people respond to it. Then we can continue to grow and develop. In a couple of months, we're going to be launching new size ranges, which is really awesome."
But why the name Norman?
"Sometime during the two years of research and development process, my husband said to me, 'What about Norman for a kid's name? It's edgy. It's quirky. It's a little bit nerdy and it's cool.' I liked it and thought, why not use it for the mountain bike apparel?" she explained.
"All the motocross brands are really flashy and cool, but we wanted to be different. And that's where we landed."
READ MORE: Tech Tuesday: Five Aussie companies pioneering sustainable tech breakthroughs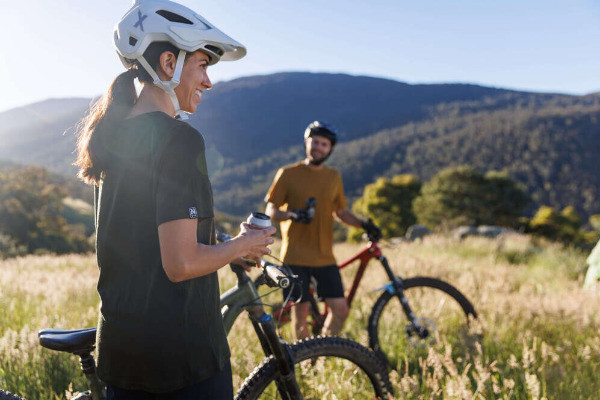 On running your own business
Launching Norman while balancing a successful career in leadership operations for the design group at Canva, Jacinta's no stranger to managing time and responsibilities. Her advice from an entrepreneurial perspective is to not get caught up in a seemingly never-ending task list.
"You're never going to feel like you have fully finished a task. There's always going to be things that you want to do to keep building or improving. You're your own worst critic, so you're never going to feel like it's done," she observed.
"So don't get too caught up in ticking items off a list. You need to make peace with saying 'I've done this to the best I can right now. I'm going to leave it in the hands of the customers to give me feedback and I will build on it.'"
It's a motto that she extends towards handling failure as well: "Failure's an experience that helps you grow, learn, and become a wiser human. It isn't actually what you think it is."
The best advice received
According to Jacinta, the best advice she's received over the years is to always have a side hustle – whether it means other interests, hobbies, or projects.
"Your job shouldn't define you as a person. What should define you is your experiences," she explained. "The way that you can experience more is if you have more side hustles, have as many side hustles as you can. It could be a craft project. It could be journaling every day. It could be anything that's not your nine-to-five full-time job that you're paid for."
Keep up to date with our stories on LinkedIn, Twitter, Facebook and Instagram.
READ MORE: Let's Talk: How inclusive marketing can help brands achieve awesome results


[ad_2]

Source link