[ad_1]

In what might sound like an unlikely source of inspiration, it was Freya Tasci's studies in literature and philosophy that would go on to inspire her successful business idea.
Coming across references to oilskin used to wrap items in transit, the entrepreneur decided to test it out herself.
"I was buying expensive organic veggies for my small children who had allergies and they'd wilt in the fridge after a few days – I needed better wrapping to keep them safe," she recalled. "I also wanted to avoid introducing harmful chemicals like plastics into the house."
When she couldn't find anything like this in the market, trials into creating her own oilskin (cotton soaked in beeswax) ensued. Eventually, she landed on her hit product: Apiwraps, named after the Latin word for 'bee'.
She elaborated, "They're waterproof but also breathable, making it the perfect item to wrap veggies and other food items like that. And since its beeswax soaked in cotton, it can be washed and used again.
"Beeswax is the most incredible material. It's beautifully versatile and natural. It's something that you can even eat and there's no chemicals or anything in it."
Freyja's practical, eco-friendly product can be used around the kitchen and with proper care and attention, one Apiwrap will last around a year. Significantly, due to its sustainable impact, it's estimated that Apiwraps has replaced the need for more than 10 million metres of single-use plastic wrap over its last ten years of business.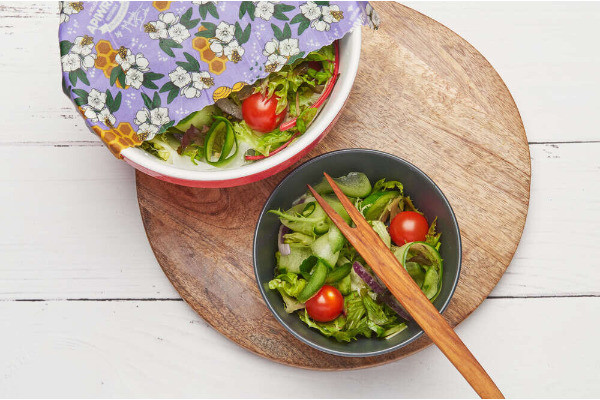 Supporting small businesses
She started the business in November 2012, selling Apiwraps in Byron Bay markets.
"People would walk past and say to me 'you've got to build this business, you've got to scale it, this is amazing'," Freyja grinned.
Today Apiwraps are available across Australia through their website, local vendors, and major retailers like Aldi and Woolworths.
The production of Apiwraps combines the efforts of numerous small Australian businesses: a family beekeeping business for the wax, one of Australia's last standing textile manufacturers for the cotton, and local artists who create the unique designs.
Freyja elaborated, "My mother was a fine artist, so I love having the opportunity to support the arts and other small businesses with this commercial product. That's the beauty of being in business and keeping business in Australia, we get to meet and work with these amazing people."
COVID as a 'reset'
Like many other entrepreneurs, she suddenly found herself "on pause" for two years when the pandemic hit. Having to scale back expenses, they had to cut the team down to the bare minimum, move out of their warehouse at the end of the lease, and find a way to continue orders.
"It's a reset in a way of everything. And now I'm launching any product at the gift fairs in Melbourne, at the end of the month, and I'm doing a product launch from scratch for the first time in 10 years!" she laughed.
"To do that, I followed my own advice. I reached out to our retailers to pick their brains. What was working? Do you think the customers might like this? What about if we did so-and-so? It was invaluable to get that information, to inform me on the product I've got.
"It's now an exciting time to go into a product launch and this all came from taking that step back during the pandemic."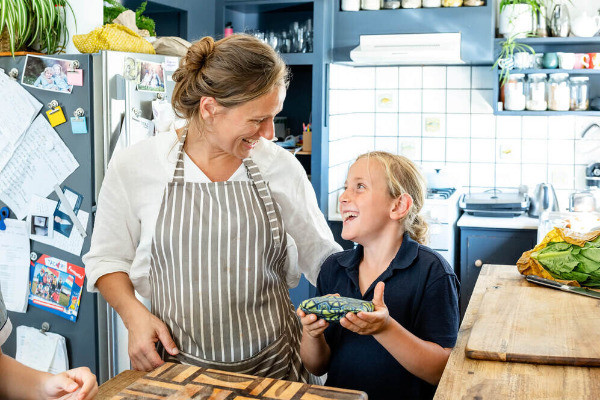 Entrepreneurship and motherhood
With her children's allergies playing a pivotal role in inspiring Apiwraps, it's no wonder than Freyja continues to find inspiration and drive from them, now 13 and nine.
"When you're in the thick of running a business and it lives or dies with your effort, you have this temptation – 'what if I sold this and got a job?' It could be so easy to do that, to get a more reliable income," she observed.
"The fact that I am juggling motherhood and the responsibilities with my business, I know that I would never have that flexibility anywhere else. I really want to work for myself so I'll make this effort."
The best advice received
Freyja still remembers the valuable advice one of her uncles provided in the early days of the business.
"I felt like I was in an endless cycle of investment, and we were inching, painfully slowly, forward. That's when he said to look at it as a series of experiments in order to find the solutions.
"It's a subtle shift, but realising the world isn't against you is a really empowering mindset change.  You're creating something from nothing and this is simply the process. I've since applied it to everything I do in business, whether it's a new product launch or a new advertising strategy – it's just a series of experiments that will reveal the best way forward.
"Business is hard and it's not always going to be easy. But just because something's not easy doesn't mean you shouldn't be doing it or that it's not a worthy idea."
READ MORE: Founder Friday with Jacinta Timmins: the secrets of launching a sustainable apparel brand
[ad_2]

Source link