[ad_1]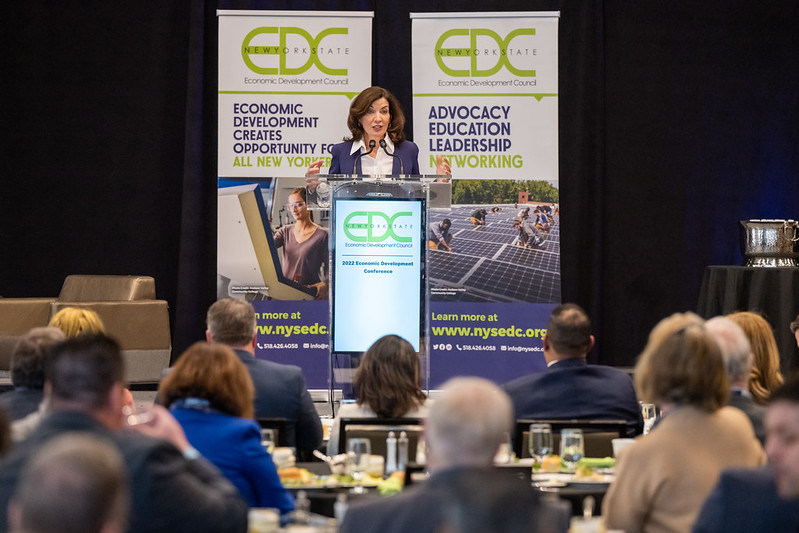 Gov. Hochul talks economic development (photo: Darren McGee/Office of Governor Kathy Hochul)
---
In their separate one-house budget resolutions passed this week both houses of the State Legislature included a "database of deals," a public register of state business subsidies that would shed light on billions of dollars in government incentives to corporations.
The legislation, which has been around for years but not passed, would require the state to publish a searchable database of state subsidies for economic development projects that would document the corporate recipient, the state benefits received, and number of jobs committed to and created.
Supporters of the proposal including legislators and transparency advocates say the tool would allow the government and the public to evaluate the efficacy of roughly $5 billion in annual business and economic development incentives and could make it possible to track the total flow of state money to businesses across the state.
Passage in State Senate and Assembly budget resolutions does little more than show significant legislative support for the proposal. In order to become law, it would have to survive final state budget negotiations, which are now unfolding among Governor Kathy Hochul and legislative leaders ahead of the April 1 start of the next state fiscal year. Alternatively, the bill could be passed at any time by the two houses of the Legislature.
Hochul has not taken a public position on a database of deals nor did she put it in her $216 billion executive budget or State of the State policy agenda, both released in January.
Calls for a database of state economic development deals and subsidies have grown over the years amid related corruption scandals, high-profile failures, evidence of pay-to-play politics, and general questions about the necessity and effectiveness of such tax breaks and other incentives favored by former Governor Andrew Cuomo.
"The public wants to know how their dollars are being spent and we think this database of deals legislation will go a long way to ensure that we can capture exactly what is happening, especially in economic development projects," said State Senator Leroy Comrie, a Queens Democrat who has sponsored the bill.
The legislation will "help the public see which businesses are getting state subsidies, how much they are receiving, and whether those subsidies are creating jobs, as intended," said Assembly sponsor Monica Wallace, in an email statement urging lawmakers to back its inclusion in the final enacted budget.
Economic development subsidies can take many forms, from government grants and loans to tax benefits to utility assistance. They can be administered through a range of state agencies where reporting on them is decentralized and often incomplete. One of the largest, the New York State Film Tax Credit Program, gives $420 million a year in tax breaks to businesses that produce films in New York.
Opaque and unaccountable subsidies have helped prop up billionaires and political insiders. Tech mogul Elon Musk received upwards of $950 million in state incentives to open a spectacularly overvalued solar panel factory in upstate New York that created few jobs before being absorbed by Musk's company Tesla. Another economic development project, the billion-dollar nanotech initiative spearheaded by Cuomo as part of "the Buffalo Billion," incubated one of the biggest bid-rigging scandals in recent state history and ended with close Cuomo allies going to jail.
Like her predecessor, Hochul has continued to tout state incentives for major economic development projects, like the "Finger Lakes Forward" initiative that includes a $500 million state investment promised to "incentivize private business to invest well over $2.5 billion" to revitalize the region and create "up to 8,200 new jobs."
As part of that effort, on Wednesday Hochul announced that a French yogurt and desserts company, La Fermière, "will establish its U.S. production operations in New York State" and committed to constructing a large new production facility in Batavia. The company, the governor's office said in a press release, "expects to create up to 135 new jobs in the region." The press release did not say what types of incentives the company was getting from the state.
In January, the State Senate held a long-awaited public hearing on the state's business subsidies after calls from advocates for greater oversight.
The language in the new one-house legislative budgets, passed on Monday, includes detailed definitions of subsidy categories and job commitments, allowing cost-efficiency comparisons across projects. Because it would be a centralized system – housed in the Empire State Development Corporation (ESD), where most of the state's economic development dollars pass through – it would make it easier to see the total number of state tax dollars going to individual companies.
After related scandals and significant pressure, including the threat of database of deals legislation, ESD began voluntarily reporting some business subsidies under Cuomo in its Database of Economic Incentives, but it doesn't cover as many subsidies and there are no penalties or sanctions for failing to report information.
"Putting it in law gives it much more teeth and also makes it subject to oversight by the Legislature, which is crucial," said John Kaehny, the executive director of the good government group Reinvent Albany, which has been pushing lawmakers to adopt the database of deals for years.
"The database of deals we expect will become one of the fundamental ways that the Legislature and the Governor measure the success or failure of different kinds of subsidies," Kaehny said. "Right now the state's database is simply too incomplete to be a useful analytic tool."
The database of deals would still contain gaps. It would not cover subsidies from local governments, worth another roughly $5 billion annually. And individual beneficiaries would still be able to hide behind limited liability companies to obscure the total state subsidies they are receiving.
"It would still be a huge, huge step forward," Kaehny said.
The database is not a done deal. The State Senate and Assembly both included some form of it in their one-house budgets in 2017 and 2019, but the proposals got whittled out during budget negotiations with Cuomo, who used business subsidies prolifically and often with little oversight.
Hochul has staked her early tenure as governor on a burgeoning reputation for intragovernmental cooperation and transparency but has not said whether she supports the legislation.
"Governor Hochul's Executive Budget includes bold initiatives to embrace this once-in-a-lifetime opportunity to invest in our future, and we look forward to continuing to work with the legislature to finalize a budget that serves all New Yorkers," wrote Avi Small, a spokesperson for Hochul, in an email to Gotham Gazette.
Comrie was optimistic it could pass under Hochul. "The new administration is more cooperative and committed to making sure government is more transparent," he told Gotham Gazette.
"I'm getting very positive feedback from all members that we talk about it with because it does more things to ensure that taxpayer funds that are being allocated are allocated fairly and equitably," said Comrie, a Democrat representing a predominantly Black district in Queens.
Part of that means being better able to track tax dollars going to minority- and women-owned businesses, he noted.
Senate Majority Leader Andrea Stewart-Cousins and Assembly Speaker Carl Heastie did not respond to requests for comment. All three Albany leaders — Hochul, Stewart-Cousins, and Heastie — are Democrats.
For the first time, the Senate and Assembly database of deals proposals use roughly the same language. That means the bills won't have to be reconciled further down the line and indicates broad agreement among legislative leaders as they enter negotiations with the Hochul administration.
The database of deals enjoys more support in the Legislature this time around in part because it no longer includes subsidies from local governments, according to Kaehny.
"That was done very deliberately to make the politics simpler, basically," he said, adding that advocates want to see it expanded to localities in the future.


[ad_2]

Source link