[ad_1]

At work, women are being exploited and underpaid; according to a study that shows that the national pay gap is estimated at $966m per week or $51.8b per year. 
The study reveals that gender discrimination remained the biggest driver of the pay difference, according to the economics of the gender pay gap issued by KPMG, Diversity Council Australia (DCA), and the Workplace Gender Equality Agency (WGEA).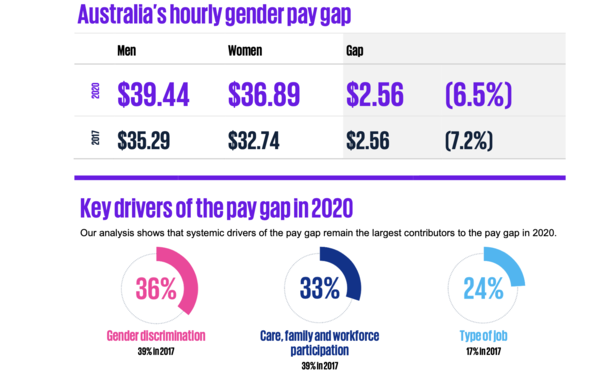 It accounts for 36 per cent of the $2.56 hourly wage disparity. Other important wage gap determinants include family responsibilities and workforce participation (33%), as well as the type of job and industrial employment sector (24 per cent).
KPMG Chairman Alison Kitchen said, "Since our last report in 2019, the gender pay gap has remained stubbornly unchanged despite action across the public and private sector to tackle gender inequality. 
"This report shows that gender discrimination continues to be the single largest contributor to the gender pay gap. It also shows a worrying trend in the rise of industry and occupation segregation. We must collectively increase our efforts to build a better and fairer Australia."
And it gets worse..
The research also contains a breakdown of the gender pay gap by income quintile, demonstrating how gender discrimination, a lack of advancement opportunities, and underrepresentation in management affect women throughout their careers.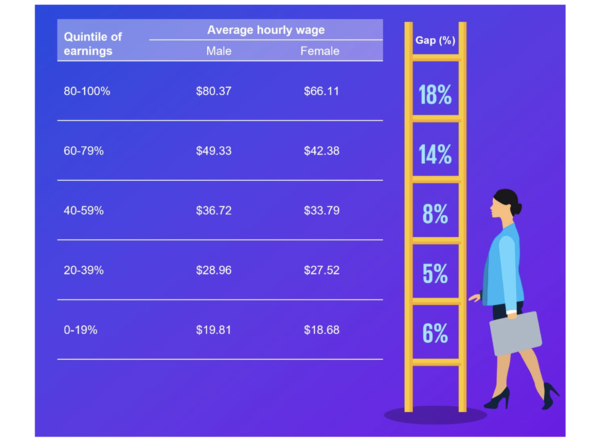 It also finds that women have a 6 per cent pay disparity at the start of their careers, but when they advance to top management positions, the pay discrepancy grows to 18 per cent.
DCA CEO Lisa Annese said, "To act with purpose in addressing the gender pay gap now would invest in our nation's future economic prosperity and help overcome the harsh economic conditions we face. 
"Action now is significant for low paying industries where women comprise the workforce majority, such as healthcare and education, which we rely on in our daily lives." 
Industry snapshot
The analysis of the report across five key industries (Healthcare and Social Assistance, Education and Training, Retail Trade, Manufacturing, and Accommodation and Food Services) demonstrates how gender pay inequalities persist regardless of labour force size, gender makeup, or average rate of pay. 
It also discovers that women in feminised industries face additional challenges to reaching wage parity, with gender pay gaps higher than the national average and underrepresentation in promotions and critical management positions.
UN Women calls on Australians to examine gender equality priorities
The Wages and Ages: Mapping the Gender Pay Gap by Age data series is the first to break down WGEA data by age. It demonstrates that in 2021, no age group had more than 50 per cent of women working full-time, despite the fact that higher-paid managerial positions were virtually entirely held for full-time employees. 
More than 90% of managers worked full-time across all age groups. Working patterns diverge beyond the age of 35 when men are more likely to work full-time and women are more likely to work part-time or casually.
Furthermore, men over the age of 55 are twice as likely as women to be in management. Two-thirds of women in managerial positions at the same age are in lower-tiered management positions. 
Men outearn women across all generations, according to the research. This peaks between the ages of 55 and 64, when men outearn women by 31.9 per cent or more than $40,000 per year on average. Even women over the age of 55 who have advanced to senior executive and CEO positions face a significant wage disparity, earning around $93,000 less per year on average than their male senior executive and CEO peers.
The World Economic Forum presently anticipates that closing the global gender gap will take 135.6 years, a figure that has increased due to the consequences of the COVID-19 pandemic in stalling progress toward gender parity across various economies and industries. 
Australia presently ranks 50th out of 156 countries, with our best efforts in education offset by poorer rankings in economic involvement and opportunity.
Full report here.
Full KPMG report PDF here
Keep up to date with our stories on LinkedIn, Twitter, Facebook and Instagram.


[ad_2]

Source link